---
From the President: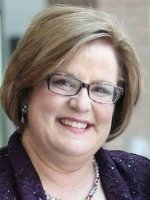 December 2016
Greeting, Friends and Members of SCKMEA!
We are excited to celebrate the hard work and rewards of district membership by honoring our students at this weekend's Honor Ensemble Event and Mini-Convention at Wichita East High School. We hope that you will "jazz" up your winter with great clinicians, sharp students, super music and warm fellowship with fellow music educators from around our district. KMEA member teachers are invited to attend our annual luncheon and business meeting, beginning at 11:30 AM with Hog Wild BBQ for only $5.00. We welcome Mike Quilling, KMEA Government Relations advisor and former KMEA President, as our guest speaker; his insight and experience in Topeka and in Washington are incredibly valuable and eye-opening. You will not want to miss this. High School choral teachers will want to attend the business meeting to be a part of the discussion of the reality of how an additional choir at KMEA will look; you'll receive information about the survey that will communicate our priorities to the state KMEA board in February.
Parents and families, maps and information about East High School are located on this site as is the honor ensemble schedule for the day. Please have your students look for volunteers in orange SCKMEA t-shirts (our local collegiate affiliate NAfME members from WSU and Friends) if they have questions. Your students' directors have also received information from the chairpersons of our groups, so be sure to check with them if you have questions.
Thanks to all of you for your support for our talented students. We couldn't do it without any of you!
Amy Brown
President, South Central Kansas Music Educators Association
SCKMEA Fee Policy
At the January 30, 2016 board meeting, the SCKMEA Executive Board voted to approve the following policy which will be in effect for the 2016-2017 school year. Late entries for SCKMEA auditions for District Jazz Band, Band, Choir, and Orchestra will be assessed a $25 late fee for each entry.

All audition fees and participation fees for all SCKMEA honor groups (Elementary Choir, MS Band and Choir, HS Jazz Band, Band, Orchestra, Choir) must be paid by the day of the event. If fees are not paid on-time, the audition and participation fees will be doubled.

All audition, participation, and late fees must be paid by March 1. If fees remain unpaid after March 1, students from that school's program (band, choir, jazz or orchestra) will not be eligible to participate in SCKMEA District events the following school year.