---
From the President: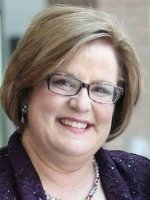 August 2016
Welcome back to the school race! A question for you: Why do you teach music? The prize might not be huge money or awards but it's always a win when students are challenged, enriched and provided a platform for success and encouragement. Best wishes as you embark on a new start. Please explore the SCKMEA and KMEA websites for very helpful resources, especially for the start of the year and for new teachers. Experienced music educators, please let us know if you have someone new to your district so we can reach them with some of the helps available through the district, state and national NAfME organizations. Our group's "why" is to provide a network of support for music educators in Kansas - because we've "been there, done that" we can relate to the challenges of our jobs and seek to be of assistance. Our district has a terrific board of enthusiastic, positive individuals who would love to help.
We will be voting on a new President-Elect to become President in February 2017; Mark Walker has resigned from the current position. We are grateful for his help and input up to this point and wish him the best. Voting will be online and easy and will occur very soon. SCKMEA provides terrific opportunities for your students and observational experience for you. Registration info can be found on the links for each of the honor groups below:
October 15: the SCKMEA Elementary Choir and Workshop brings nationally recognized conductor Christy Elsner to Andover High School for the district Elementary Honor Choir for 3rd - 6th grade treble singers as well as KMEK President and innovative Teachers Pay Teachers resource teacher Lindsay Jervis to lead an inspiring, idea-filled workshop for elementary and middle school educators.
November 5: SCKMEA Middle School Honor Band/Middle School Honor Choir and High School Jazz Band Honor Group event accompanies the High School district auditions at Andover Central High School. Don't miss this opportunity to have your students hear from the best and return that leadership to your classroom.
December 3: SCKMEA Mini-Convention and High School Honor Group performances at Wichita East High School, all with top notch clinicians who will recharge your teaching batteries and send your honor musicians back to your classroom as leaders. Lunch for teachers is available again for $5.00 and an important SCKMEA member meeting with KMEA President Martha Gabel will occur during this time, including voting for President-Elect for 2017-2019 and a survey regarding the development of a new All-State Choir to be created in addition to the existing group.
We have extended the deadline for submitting nominees for
Outstanding Music Educators
at the High School, Middle School and Elementary levels and for
Outstanding Administrators
to Sept. 15. Please submit letters of recommendation from parents, peers and administrators to celebrate remarkable achievement by your fellow educators—don't miss this opportunity to give them a nod of encouragement for their work.
Wonderful opportunities for your best younger students are available during the Feb. 2017
In-Service Workshop
by digital upload for elementary and middle school students—the
KMEA All-State Elementary Choir
for grades 3-5, the
KMEA All-State Middle Level Choir
for grades 7-9, and the
KCDA Treble Honor Choir
for grades 5-9. All are tremendous opportunities to broaden the scope of exposure to internationally recognized directors, sponsored by KMEA and our affiliate organizations. In addition, don't miss
performances
by our South Central colleagues' groups selected to perform during the ISW event.
Thank you to all of the board members who are serving our students; we are grateful for the time and energy they put into making our district a welcoming place to be. If you know of a new music educator, please let us know so we can contact them to be a support during their challenging first years.
High School educators, please do not forget the scholarship opportunities available through both
SCKMEA
and
KMEA
for your students. It just takes the time to apply and a great application essay due by Oct. 1. Please be sure your students are aware of this great opportunity.
Thanks for being the "why" for so many of your students. For many, your class is the reason they come every day. Best wishes for a terrific year.
Amy Brown
President, South Central Kansas Music Educators Association
---
Resources for teachers
:
KMEA on Twitter:
@ksmea
SCKMEA on Twitter:
@sckmea
Kansas Music Review
- nationally recognized online magazine, complete with a digital source for topics:
kmr.ksmea.org
KMEA website:
ksmea.org
National conference is another great resource for educators; the NAfME National Conference will be held November 10-13 in Grapevine, TX. We've got South Central student musicians headed that way, so if you go, let us know, look for me there and be sure to send pics!
SCKMEA Fee Policy
At the January 30, 2016 board meeting, the SCKMEA Executive Board voted to approve the following policy which will be in effect for the 2016-2017 school year. Late entries for SCKMEA auditions for District Jazz Band, Band, Choir, and Orchestra will be assessed a $25 late fee for each entry.

All audition fees and participation fees for all SCKMEA honor groups (Elementary Choir, MS Band and Choir, HS Jazz Band, Band, Orchestra, Choir) must be paid by the day of the event. If fees are not paid on-time, the audition and participation fees will be doubled.

All audition, participation, and late fees must be paid by March 1. If fees remain unpaid after March 1, students from that school's program (band, choir, jazz or orchestra) will not be eligible to participate in SCKMEA District events the following school year.